Camp Raphayada Intro
This is the website of the Phil and Debbie Melton Family and Ministry, and currently features the ministry of Camp Raphayada

The Japan Evangelical Baptist Ministries [JEBM] ministry team appreciates your visit today!
While you are here, check out the "History of Camp Raphayada" photos on our additional photo pages [Photo History 1-5]. Camp Raphayada is the ministry of the Mino Seki Grace Baptist Church, Inc. and was started in conjunction with the international ministries of Japan Evangelical Baptist Ministries. (Former Evangelical Baptist Missions facilitated the initial project.) Thanks for visiting us at our homepage.
If you come by, drop us a note at: philmelton@aol.com
because we would love to hear from you.


Camp Raphayada ministry update
Over 16 years since the land purchase and beginning of construction, and after hundreds of hours of labor, dozens of volunteers working above and beyond the call of duty, and after many large and small donations making up a huge ministry, Camp Raphayada has become a beautiful place to visit and a self-sustaining outreach ministry of the church.
Our current ministries include three churches, the Mino Seki Grace Baptist Church (Japanese), the International Grace Baptist Church (Sakahogi Church -- international), the Filipino Grace Baptist Church and the Grace Community Family Fellowship (Visian language services), and of course, the English and Bible classes, youth programs, community outreach, literature printing and distribution, and construction of and directing the new Camp Raphayada.
Plans for the final major building projects (finishing the outdoor chapel, building an extension to the kitchen, two guestrooms, and a bit of storage, extending the parking/recreation area, and adding a barbecue area and a pool) are now underway. We look forward to completing the camp construction by June of 2017, Lord willing and finances, resources, and workers permitting.
Come back again and visit often! Thanks for stopping by.

Phil Melton
Missionary pastor, Mino Seki Grace Baptist Church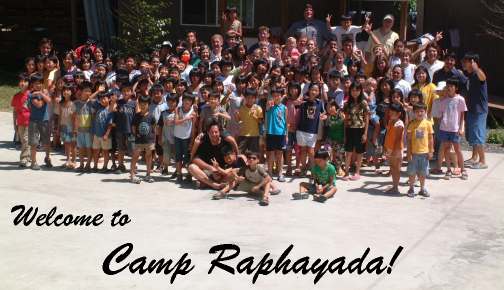 It is a privilege to be given the opportunities to share the gospel here in Japan.
Our children, Stephanie (now married and serving back in Japan with her husband, Kyohei, and five daughters, Marie, Erika, Anna, Serina, and Alissa, and son, Ken, in the ministry in Seki) and Danielle (now back in the states since summer, 2012, and serving with her new husband, Eric, and our very first grandson, Dakota), Sharon (once again serving with us since May of 2011), Nathan (who, along with his bride, Stephanie, and his newborn son, Aiden, is currently making plans to return to Japan as a missionary), Natalie and Andrew are also an important part of the ministry.
It is truly a delight to serve God here, and a privilege to be able to minister in the country of Japan, in the cities of Seki and Minokamo. We look forward to having more workers to join us in our ministry of reaching the Japanese with the wonderful news that God loves them and cares for them personally, in spite of their seeming economic difficulties at the moment. Pray for Jared and Nozomi Vanning as they make preparations to return to Japan to serve as missionaries with with us.
History
The Mino Seki Grace Baptist Church developed as respective churches formed by the combined ministries of Rev. and Mrs. Patrick Melton, in Mino, and his son, Rev. Phil Melton and family, in Seki, when the two churches were merged according to plan and land purchased in 1992. Our current facilities were built the following year, in 1993.
It has been a privilege to serve God here in Japan the past twenty-some years, and we look forward to great things in the days ahead.
We welcome you to our website, and we are happy that you have chosen to visit with us for a while. Please come back often. The site changes frequently, and we would love to see you here whenever you are able to drop by.
Phil and Debbie Melton
Missionaries with Japan Evangelical Baptist Ministries
Sent from the Grace Baptist Church in Waynesboro, PA
For over seven years we have continued building and operating Camp Raphayada without the help of my brother, Sam, who for several years ran a sushi restaurant in Greenwood, but before that, very little of the campsite would have been a realty without his help. I am thankful that he has been able to return to Japan several times over the past year or so to assist in construction once again.
Debbie and our families, co-workers, friends and I have the privilege of ministering to the wonderful people of the cities of Mino, Seki, Sakahogi, Minokamo, Kani, and surrounding areas, and area churches through our christian campground, Camp Raphayada. But at the campground, the construction, the progress...much of this work is due primarily to the efforts of my brother, Sam, who worked tirelessly and without salary for most of two years.
Current construction at Camp Raphayada involves the final touches on the outdoor chapel, which was the culmination of Phase IV with the purchase of land behind and beside the campground for parking, a park, mini-soccer/volleyball field, playground, a couple of small cabins, the picnic area and pool behind the Hub. We thank God for providing the needs for Camp Raphayada at each step of construction and land acquisition.

Special thanks to my brother, Sam, for his work on the camp so far.
Phil